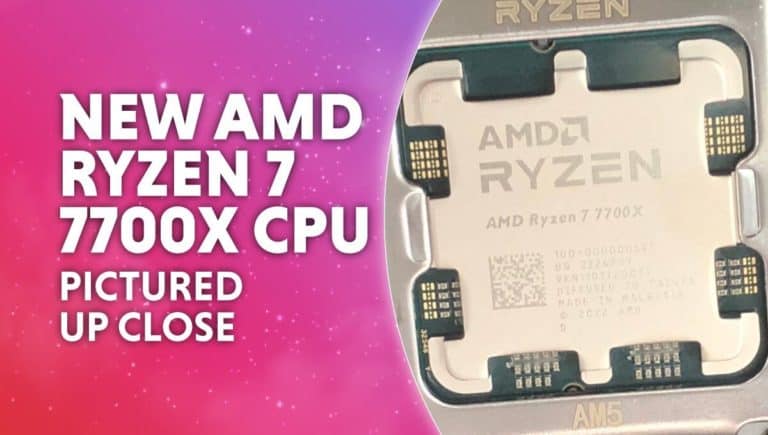 For the first time ever, we see a Zen 4 CPU in the flesh. Meet the Ryzen 7 7700X.
AMD is said to be releasing its new Zen 4 Ryzen 7000 series CPUs on the 27th of September 2022. But as it turns out, we don't need to wait that long to get a glimpse of the new CPUs. 
Now read: AM5 what we know.
Thanks to user cortexa99 over on the AnandTech forum we get to see a retail version of the Ryzen 7 7700X. 
Ryzen 7 7700X pictured 
Here's the Ryzen 7 7700X in all its glory. 
We can see the new geometric shape of the IHS, and the fully-fledged AMD Ryzen logo engraved onto it. Sitting proudly in the brand new AM5 socket LGA 1718.
Ryzen 7 7700X release date prediction
According to recent leaks. The Ryzen 7 7700X is expected to hit the shelves, along with the other three Zen 4 CPUs, on September 27th, 2022.
Recent leaks suggest that AMD will release its Zen 4 Ryzen 7 7700X on September 27th, 2022, the very same day Intel announces its Raptor Lake CPUs.
Ryzen 7 7700X specs
The Ryzen 7 7700X is an eight-core, 16-thread CPU capable of boosting core frequencies up to 5.4GHz (although we're sure it's capable of a little more than that). The base running frequency of the 7700X is 4.5GHz. 
This particular 7700X has an OPN code of 100-000000593, confirming earlier leaks about the CPU popping up in benchmark posts. 
Unlike its Ryzen 9 brothers, the 7700X has a much more manageable TDP of 105W, despite having such high boost speeds. The cache size of the 7700X tops 40MB total, that's 8MB more than the Ryzen 7 5800X of the previous generation. 
AMD has doubled the L2 cache in Zen 4 over Zen 3. Offering 1MB cache per core as opposed to 512KB. Meaning the Ryzen 7 7700X has 8MB of L2 cache. 
The Ryzen 7 7700X is rumored to cost around $299, that's the same price the Ryzen 7 5700X was introduced at. However, the price of the 7700X is still unconfirmed. 
Final Word
This is the first time we have seen a Zen 4 CPU sitting inside an AM5 socket, a moment like this gets us evermore excited for the launch of Zen 4 CPUs and AM5 motherboards. We simply cannot wait to get our hands on them. 
When will Ryzen 7 7700X release?
The Ryzen 7 7700X is rumored to release on the 27th of September 2022, along with the other Zen 4 CPUs.
Is the Ryzen 7 7700X compatible with AM4?
No, the Ryzen 7 7700X is not compatible with AM4 as it's an AM5 socket CPU.