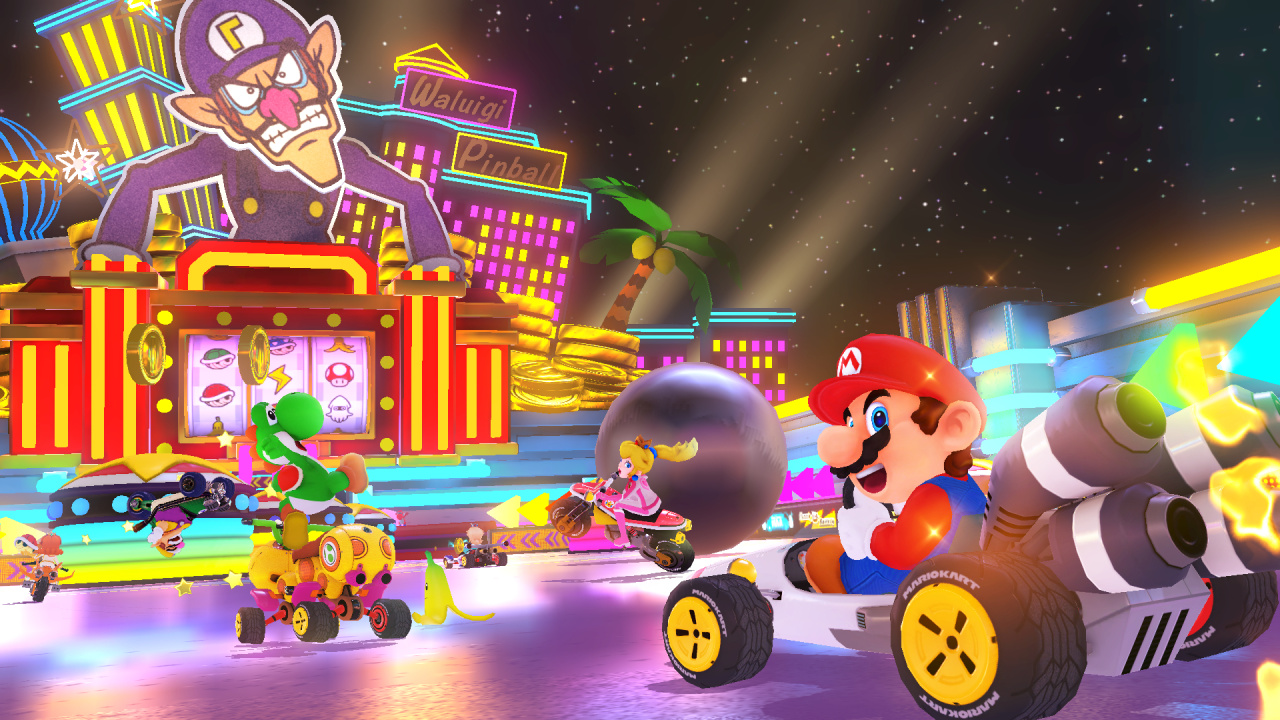 Last Updated:

Here we are! Mario Kart 8 Wave 3 DLC Release Date Predictions and more details to come!
Ah yes, it's that time again. A question following Wave 2's release is – when will Wave 3 release and when til we'll get more details?
Wave 2 is approaching with the release slated for August 4th – that's this week!
Tracks included are as follows:
NEW YORK MINUTE
SNES MARIO CIRCUIT 3
KALIMARI DESERT
TOUR SYDNEY SPRINT
DS WALUIGI PINBALL
GBA SNOW LAND
WII MUSHROOM GORGE
SKY-HIGH SUNDAE
With Wave 2 approaching and rolling out the next wave, wave 3 will be in question for Mario Kart fans.
Mario Kart 8 Wave 3 News
As expected, Wave 3 news will be very limited. However it's also expected that the two new cups will be: Rock Cup and Moon Cup.
NOW READ: Get the run down on the Mario Kart 8 Delxuxe DLC, expected to roll out until the end of 2023.
From the past two wave releases, it's expected we will see maps from platforms such as GameCube, Wii, NintendoDS and 3DS.
What is the community saying?
Regardless of wave 2's release, the community on Reddit have no been shy in already discussing Wave 3 with potential maps such as:
London
Singapore
Airship Fortress
Vancouver Velocity
Wario Shipyard
When Is Mario Kart Wave 3 Predicted Release Date?
Seeing as Nintendo promised that the booster pack will see it's time until the end of 2023 it gives an rough indication of when we will see Wave 3.
We predict that Wave 3 will become available to play around December 2022 / January 2023.
Previous waves, Wave 1 and 2 had a 5 month gap and if this pattern occurs we could see the next wave as early as the holidays.
NOW READ: Wave 2 is coming August 4th, see what's included
There has been many predictions even prior to Wave 2's release on Wave 3, however everything currently is not confirmed.
Possible Wave 3 Map Data Mine
While Wave 2 is up and going data miners have already looked into the predictions for the upcoming wave 3 and beyond.
This is based off new music that have been released into the game
It's an indication that these maps may appear in the booster course for wave 3 and beyond!
To recap what maps may enter the booster back they are as follow:
London Loop (Tour)
Peach Gardens (DS)
Boo Lake (GBA)
Rock Rock Mountain (3DS)
Berlin Byways (Tour)
Waluigi Stadium (GameCube)
Merry Mountain (Tour)
Rainbow Road (3DS)
Maple Treeway (Wii)
Vancouver Velocity (Tour)
Bangkok Rush (Tour)
Sunset Wilds (GBA)
Singapore Speedway (Tour)
Amsterdam Drift (Tour)
It would be worth to keep an eye on as previous datamines have been proven to be correct!
How to get new tracks in Mario Kart 8 Deluxe
Currently, to get access to Wave 1 and 2 you need to buy the booster course pass.
Once this is done, subscribe to the online expansion pass and you will get access to the wave DLCs.
We'll keep you informed around Mario Kart 8 Deluxe: Wave 3 DLC when more news gets around to it.
In the meantime, enjoy Wave 2!