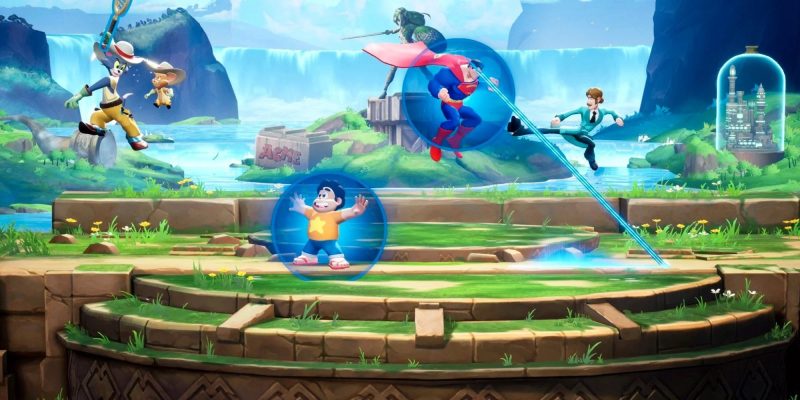 Last Updated:

In this guide, we'll recommend you the best tips on how to play the support class in MultiVersus.
MultiVersus have five classes – tank, mage, bruiser, support and assassin. We'll be focusing on support underneath.
These characters help out allies and can be a little defensive, with flashes of offensive when able to strike.
However what is best to play these characters? Here's our guide and recommendations!
Tips on how to play support in MultiVersus
Teamwork makes the dream work!
One of the main advantages and honestly the main focal point of a support is that they provide several buffs to you and your teammate.
Although supports can fight, they don't input as much damage for obvious reasons. Support players are there to assist allies.
Support characters also have huge carry potential, they're able to heal themselves and allies with more buffs.
They are great characters to allow allies to overextend themselves whilst knowing they have the means to do so.
Currently there are three support fighters in MultiVersus, these are:
Velma
Reindog
Steven Universe
NOW READ: Want to know where these supports rank? Find out updated tier list for MultiVersus as of August 2022!
As you get more comfortable with them, you'll learn that it's easy to be knocked out too.
Supports are vulnerable and will often see themselves in the back line, trying their hardest to avoid action.
This comes with disadvantages as you'll also be targeted!
Offer Best Help to Allies
The best ability all supports have is the ability to heal their allies and offer further armour.
This synergies very well with bruisers and tanks who inflict A LOT of damage in the frontline during fights.
It further increases their survivability and gives them more ample power to stay in the pocket and exchange against enemies.
With support characters such as Steven Universe can block projectiles which is great to deny enemy map control.
It's a big counter to characters such as Bugs Bunny who's kit is around throwing projectiles across the map to get more map control, Tom & Jerry included.
An ability of Steven such as 'Watermelon Steve, Go!' plants a watermelon that heals allies over time.
Once an ally is healed, the watermelon planed explodes into a fighter that assists in dealing damage.
Using the best perks
Whilst choosing the right character is one tick boxed off, having the right perks are equally as important.
NOW READ: Check Velma's recommended perks for MultiVersus!
Being sure you can synergise with perks is crucial to get the right amount of output from a character to maximise them too!
Velma's signature perk – Knowledge is Power grants allies seven grey health.
Reinhog's Fire Fluff is an ability that creates a firewall as it hits te ground. As you unlock more perks for these characters, choosing offensive / defensive is crucial on a few factors:
Which character is picked by the ally?
What class are they?
Practicing Support Class in MultiVersus
This is needed! However can be rushed due to the need to get into the game as fast as possible.
As you practice these characters, you naturally understand their moves, passive attacks and perks.
Head to 'The Lab' to try out your characters as much as possible.
Regardless of characters unlocked, you can test out all the characters in the lab!
Get to the grips of how each work so you understand how to play against them too!
It should obviously let you know which support to pick out first and prioritise first.
So, to conclude – remember these tips when looking to better yourself in the support class:
Teamwork makes the dream work!
Offer best help to allies
Use the best perks possible
Practice, practice and practice!
So there you have it! Using these tips on how to play support can definitely enhance your experience and get you climbing the win ladder!
These tips are just a recommendation though, so whichever way you want to play MultiVersus is entirely up to you!
If you enjoy MultiVersus, you'll definitely enjoy these other related posts!