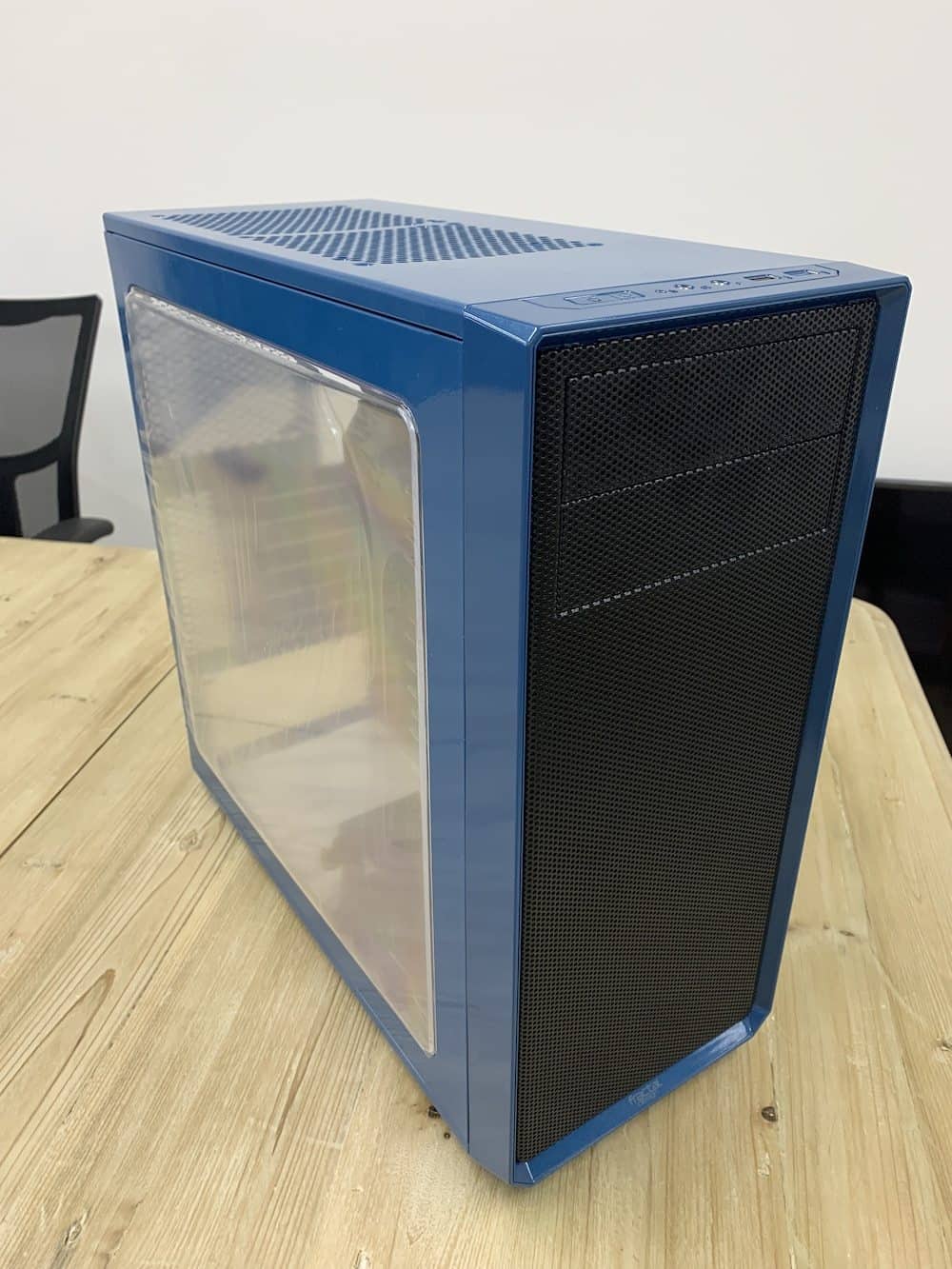 Last Updated:

Fractal Design are no strangers when it comes to designing some of the best high-end gaming cases available in today's market. However, with the Focus G, the guys at Fractal have taken a slightly different approach than what we're used to.
The Fractal Design Focus G is by far the cheapest gaming case they currently offer and naturally the price reflects build quality and features. This being said, however, the price/performance ratio shines a positive light on the Focus G and could be a great option for someone looking to build a budget gaming pc respectively.
Of course, you aren't going to get the bells and whistles that come with a premium case such as the Define S2, but what you do get, is great design features and build quality which feels fit to last.
Let's waste no more time and jump into the pros and cons of this case.
Specifications
| | |
| --- | --- |
| Case Type | Mid-Tower |
| Dimensions (mm) | 205 x 444 x 464 mm (W x D x H) |
| Materials | Steel, Plastic |
| Available Colours | Black, white, blue, red, gray |
| Weight | 4.5Kg |
| Front I/O panel | Power, Reset, 1x USB 2.0, 1x USB 3.0, Stereo/mic input |
| Slots | 7 Horizontal |
| Drive Bays | 2 x 2.5/3.5in, 1 x 2.5in |
| Form Factor | ATX, Micro-ATX, Minit-ITX |
| Cooling (Front/Rear/Top) | 2 x 120/140mm front fans, 1 x 120mm rear fan, 2 x 120/140mm top fans, 1 x 120mm bottom fans |
| CPU cooling clearance | 165mm |
| Maximum GPU length | 380mm |
Packaging & Contents
The guys at Fractal understand the importance of getting products to their customers in the safest way possible. Whether it's their latest flagship case or a budget staple, Fractal takes the same care regardless. The Focus G, like all of their cases, comes wrapped in a thin layer of plastic to deter scratches and scuffs. Furthermore, 2 large polystyrene blocks slot onto each end of the case to bolster protection even more.
The box itself is large and made of double-walled cardboard which offers excellent durability. Pictured on the outside is a diagram of the case and a specification list of everything that comes inside. Once unboxed, you'll notice the viewing window has an additional layer of sticky plastic attached which will need removing before use.
Inside the case, you will find the accessories box which is a little tatty but what did we expect from a budget case. The accessories box has the following items inside:
Stand-off screws
Zip ties
Thumbscrews
Additional fixing screws
Inside & Outside
Overall
Unfortunately for the Focus G, after unboxing we decided to sit it next to the Fractal Designs higher end case offerings. (Define S2 and Meshify S2)
Straight away you could see a lot of corners had been cut to try and reduce the price as much as possible. Just looking at them side by side you can tell the difference in class. But let's not compare this to Fractal's flagship cases, let's think about this more objectively.
The Focus G has kept the same rectangular shape which Fractal design has used so frequently in the past. Some may think this is boring, however, it does offer a clean and subtle look which for some would be quite desirable. The case is made up of metal (thin steel), primarily, but it does have a plastic edge around the front panel.
Overall it's not a terrible looking case, but one that certainly only caters towards the budget PC builder. If you have ANY high-end hardware components I wouldn't be thinking of this case to showcase them anytime soon.
Front & Rear
Looking at this case from the front on, the first thing that strikes me is the mesh front which Fractal has said boost's airflow intake for optimal temperature control. We'll take that with a pinch of salt for now though.
The front panel design isn't the best as the mesh is broken by the 2 drive bay covers. The logo is situated at the bottom and is extremely small, as if Fractal doesn't want you to know who designed this case.
To access the front fans you need to pry the front panel off by pulling the bottom with a fair amount of force. The clipping functionality feels pretty solid though which is good to see on cheaper cases. The I/O panel is not connected to the front panel either so you can fully remove it without compromise.
The rear is pretty standard, as you'd imagine, and comes with much less functionality than higher-end cases from Fractal. This being said, however, it does have 7 expansion slots and plenty of mesh to increase airflow further.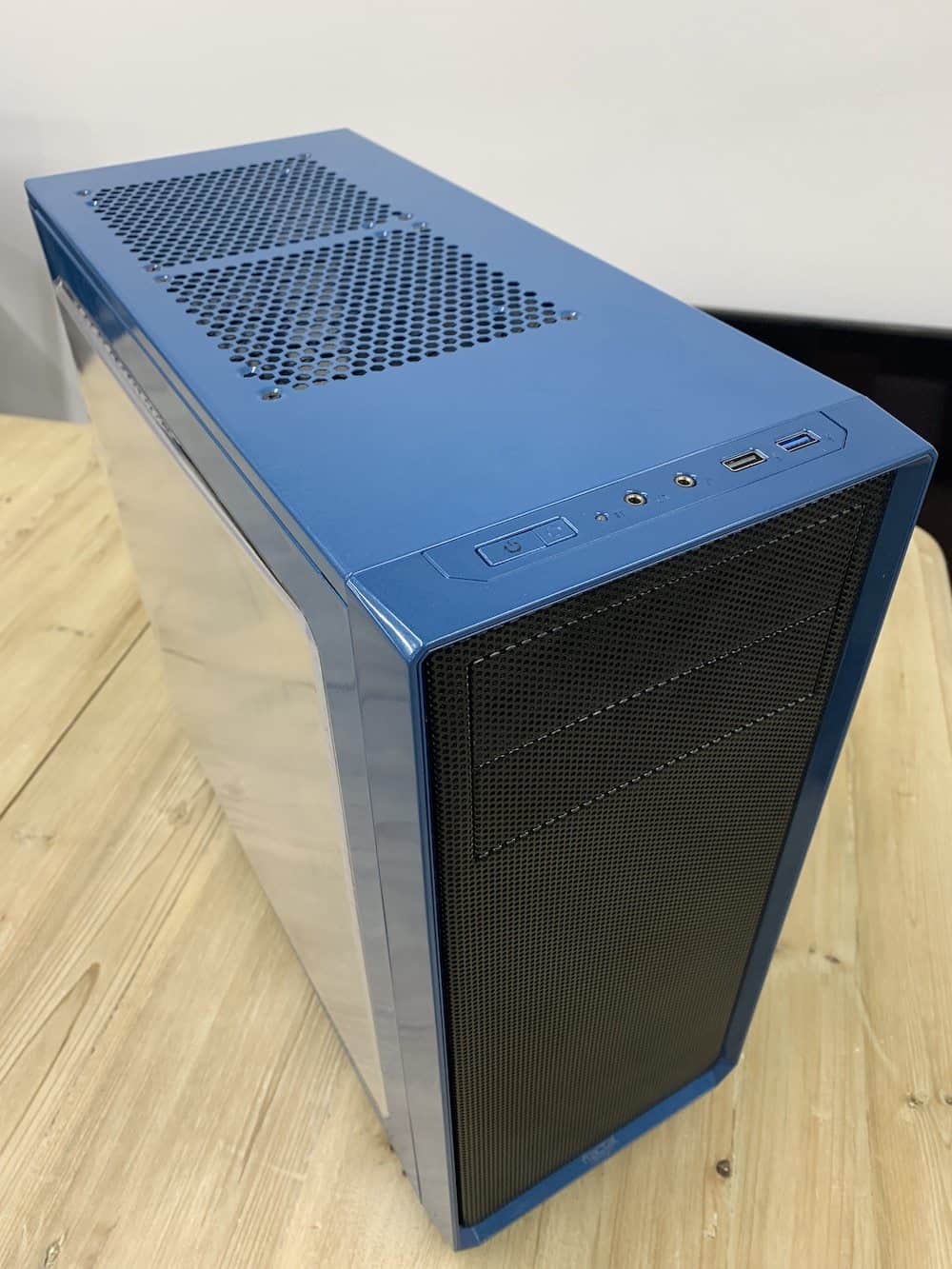 Side Panels
One way that Fractal has managed to bring costs down so efficiently is in the build materials. As stated above, most of the case is metal and this includes the rear side panel. It feels pretty flimsy as far as metal panels go thanks to how thin Fractal decided to make it.
The main front panel, as we'll call it, has been designed with a viewing window to add a little bit of style to the case. It does work, kind of, but ultimately still feels fairly budget. It's made up of a thin metal frame and plastic which, in my experience, does not take long to become riddled in scratches and scuffs.
The panels don't have the same pop feature that the other Fractal cases come with and simply slides and screws into place. The thumbscrews are quite difficult to use and probably require a screwdriver. I've only used this case a couple of times and can already feel the bottom thumbscrew hole starting to go. Mainly because the hole isn't properly aligned with the side panel hole.
All this being said, if you compare this case with other's in its price field, the side panels do offer a good bit of value respectively.
Roof
The roof or top panel, isn't actually a panel at all. It's simply part of the chassis and can't be removed or tampered with. It does have some pre-drilled holes for additional fan installation but wouldn't rest my hat on those lasting the test of time.
The roof comes with a mesh interior to stop dust penetrating in and seemingly does a good job as far as we can tell. The roof is quite flimsy and flexes quite considerably under little pressure. It's the same thickness as the rest of the shell so it should give you a pretty good idea of what to expect from this case.
Let's take a look inside..
Looking inside this case, you can tell straight away space is going to be an issue if you plan to fit this thing with additional radiators or fans. Even a large CPU cooler or GPU could be problematic.
The Focus G has a very open look about it and you can tell cable management is going to be an issue. Fractal does include some cable ties but there really aren't many places for the cables to hide, especially if you're budget build comes equipped with a non-modular PSU.
The drive bays are well situated and the internal cover plate can be re-installed if you decided to break it off. Something you don't usually see in budget cases. The hard drive bays are positioned in the bottom right of the case and can accommodate 3 at any one time.
The fans can only be removed from the front and not internally which is no big issue. However, this case doesn't come with a rear fan so you will have to move one of the front fans to create greater airflow.
The stand-off screws are not pre-installed in the Focus G so you'll have to do that yourself. It's a fairly simple task, but just be careful not to thread any of the holes in the process.
Considering the price, we found building inside this case a very easy task. This is mainly down to the design of the interior. What it lacks in functionality, is made up in practicality, especially from a build point of view.
Features
As many will already know, the features and benefits of budget level cases are usually few and far between, the Focus G is no different. This being said, it does have some cool features which you don't always get in cases of a similar price:
Plastic viewing window – It's not as classy as a high end, tempered glass gaming case, but it does offer a feature which not many cases in this price bracket do. A glimpse inside your gaming build via the viewing window. It may be plastic and may be open to scratching and scuffs, however, the viewing window can be made to look aesthetically pleasing if done in the right way.
2 x Silent series LL 120mm LED fans- A lot of budget cases in this price range will NOT come equipped with fans. Luckily, the Focus G has you covered in this department. Two extremely quiet fans have been pre-installed to get you up and running right out the box.
Filtered design for better airflow – Fractal has designed this case in such a way to maximize the airflow it receives by carefully engineering grated areas of the chassis. It's going to allow you to keep the hardware components as cold as possible even in the most intense scenarios.
Vibration Dampened Drive bays – A nice feature we found with this case is the vibration proof drive bays which have been equipped to deter any hardware issues occurring down the line.
Buildability
I was quite apprehensive when it came to building inside this thing, mainly due to the lack of space and the components I wanted to use. However, it wasn't as bad as I first envisaged.
Fitting the standoff screws required little effort and felt solid and secure. Once we screwed down our ATX motherboard we started to see area's which could be become problematic down the line. Cable management, for example, was going to be a less than desirable task at the end of this thing.
The PSU slotted in well and sat on plastic feet which didn't really offer much protection or stability if truth be told. We used a semi-modular PSU for this build and you get a real sense of how many issues a non-modular PSU would pose.
Our GTX 1080 Ti did slot in nicely but ultimately took up a fair amount of space, so you can forget water cooling in this thing.
This being said, however, everything was very accessible and nothing required overt force to fit in place. Even though cable management was an issue, you have the ability to hide everything behind the motherboard plate and use cable ties to neaten them up.
The case doesn't come with any grommeted holes so cable exposure is at maximum levels. Similarly, the PSU doesn't come with a shroud so it has no hiding place.
All in all, as far as budget cases go, the Focus G wasn't a terrible building experience. However, if you're building in this case with future expansion in mind, I'd recommend looking for something slightly bigger to accommodate extra cooling and maybe a larger GPU.
Our Verdict
So, let's talk through our final thoughts…
Giving a verdict on this case must come from the perspective of a budget PC builder looking to keep costs to a minimum. If you're wanting to build a hefty gaming PC, you need to be looking elsewhere.
This being said, for the price, we feel the Focus G offers OK value for money and has some cool features that you won't find in other, similarly priced cases. The design is pretty dull if truth be told but I can see how it would cater to certain individuals. Functionality is average but practicality is good for its price.
If you're looking to build a budget gaming PC or a simple desktop work station I would give this case some consideration.